Rely On the Cleaning Expertise of Your Local Hotsy Dealer, Providing Service After the Sale
Hotsy dealers really know the ins and outs of pressure washers. Most Hotsy dealers have been servicing the pressure washer needs of their community for 20+ years. Hotsy has over 130 dealers in North America who are the best in the industry when it comes to cleaning knowledge.
Hotsy dealers are true cleaning experts – they've seen it all! It's important to get the right machine for your cleaning application; doing so will speed up your cleaning time and reduce costs. Whether you're buying your first machine or looking for an upgrade, your Hotsy dealer will analyze what you're cleaning and provide suggestions to work within your budget and your needs.
Hotsy Dealers Provide Service After the Sale!
Your local Hotsy dealer has a staff of factory-trained sales and service techs providing prompt and reliable on-site service. Investing in a Hotsy not only equips you with a dependable machine, but gives you an added resource - your Hotsy dealer - who will be there when you have questions, dispensing advice and know-how.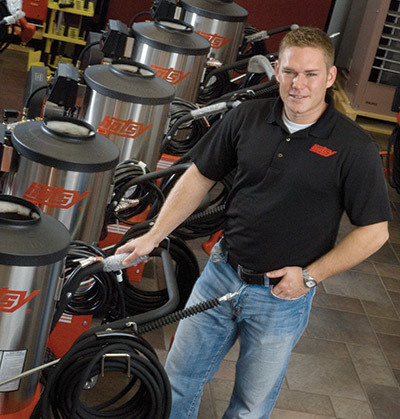 Contact Your Local Hotsy Dealer
When you need a new machine, service to an existing one, or when you need expert advice, contact your local Hotsy dealer. Click on the shortcut buttons below and let us know how we can help you.