The Hotsy Legacy — Nothing Cleans Like a Hotsy!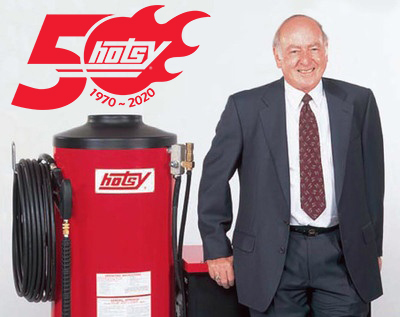 Number One in North America for High Pressure Cleaning Equipment
Hotsy, the number one name in industrial cleaning equipment and pressure washers in North America, is a brand of Kärcher, and has been meeting the cleaning needs of professionals in all walks of life since 1970. We are proud of the rugged durability and longevity that the Hotsy brand name represents. When people think of industrial cleaning equipment, they think of Hotsy!
Our history began in 1970 when a gentleman by the name of Bob Cohen became aware of a steam cleaner that was built by Slifer Manufacturing, and marketed by Kanco Tech. Early models were known for their hot water steam cleaning, a term often used today to describe pressure washers.
Bob was impressed by these heavy-duty cleaners and ended up buying both companies, later changing the name to Hotsy, which was a derivative of "hot systems". It soon became the most recognized brand — along with its trademark red — in the industry for high-pressure cleaning equipment.
Engineering Excellence and Innovation Since 1970
For over fifty years, Hotsy has established a leadership standard in industrial quality, performance, and dealer support. The early steam cleaners have been replaced with an impressive line of over 100 models of hot water and cold water pressure washers and an extensive line of high-quality professional detergents. In addition, a rather large selection of pressure washer parts and accessories makes Hotsy the clear choice for high-pressure cleaning equipment.
Hotsy has backed its equipment with North America's largest network of trained service centers. With over 175 locations in the U.S. and Canada serving countless businesses, Hotsy dealers are part of a large family — one with an amazing history in the cleaning industry. We are proud of the partnership we as the manufacturer have developed with our dealers, who have an abundance of hands-on cleaning knowledge, experience and expertise. Many have been in business over 35 years. In fact, many dealers keep it in the family with their children taking over dealerships when they retire.
Hotsy has distinguished its legacy with over five decades of innovation, quality, and unmatched performance. No other name in the pressure washer industry has enjoyed such a Red Hot history as Hotsy!