Safety Certifications and Compliance Testing
Hotsy Pressure Washers Are Certified to Meet Several Industry Regulations
Did you know the equipment you're buying has passed rigorous safety and compliance tests? Hotsy has! Below are several strict safety regulations and requirements where Hotsy equipment has successfully passed testing.
OSHA (CCOHS) regulation 1910.399 and 1910.303(a)
All electrical and other types of equipment used in the workplace must be "listed" by an "approved" testing agency. Failure to comply can result in penalties and removal of all equipment that does not display the certification mark from a NRTL (Nationally Recognized Testing Laboratories).
Worker Protection
Manufacturers that submit their product for certification are inspected by a NRTL to industry safety standards. These standards contain safety devices, testing, practices and warnings to protect the operator from any unforeseen danger.
Liability Protection
In this day of costly litigation, one of our best legal protections against an accident on the job is purchasing only equipment that has been certified by an NRTL to rigorous pressure washer industry safety standards.
CARB
Hotsy is compliant to section 213 of the Clean Air Act. Certificates of Conformity from the United States Environmental Protection Agency (EPA) pursuant to section 213 of the Clean Air Act indicate Hotsy is compliant.
ISO
Hotsy's manufacturing facilities are registered by TUV to both the international ISO-9001 quality standard and ISO-14001 Environmental Standard.
C-Tick
N-1417 is our registration number to verify our equipment has been tested for electrical interference emissions.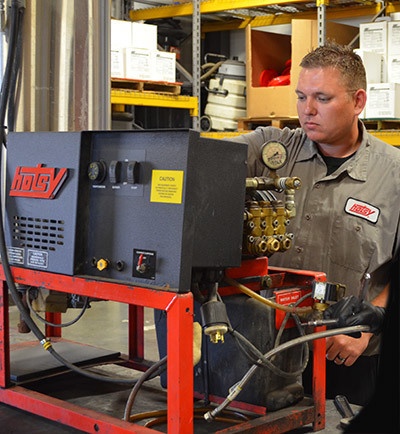 Regulation
OSHA (CCOHS) regulation 1910.399 & 1910.303(a)
Hotsy Products
All products
Hotsy Compliance
Yes
---
Regulation
SORE Small Off Road Equipment regulation
Hotsy Products
Gasoline operated equipment not using the approved engines integrated fuel tank
Hotsy Compliance
Yes
---
Regulation
Clean Air Act of 1990
Hotsy Products
All hot water products
Hotsy Compliance
Yes
---
Regulation
Regulation ICES-002
Hotsy Products
All engine operated equipment
Hotsy Compliance
Yes
---
Regulation
Tier l-lV engine regulations
Hotsy Products
Engine operated products
Hotsy Compliance
Yes
---
Regulation
NATM / NHTSA
Hotsy Products
Trailers
Hotsy Compliance
Yes
---
Regulation
Magnuson-Moss Warranty Act
Hotsy Products
All products
Hotsy Compliance
Yes
---