Choosing the Right Pressure Washer Nozzle
The nozzle is an essential part of your pressure washer. It's actually what creates the pressure in your pressure washer! The nozzle creates water pressure by regulating the force of the water through orifices of varying sizes and shapes in the nozzle. It is very important that the orifice size matches the specs of your pump in order to create the desired pressure and highest performance. Too large an orifice and you will lose pressure. Too small and you may damage your electric motor or gas engine. Consult your local Hotsy dealer if you have any questions or concerns about selecting the right nozzle for your cleaning task. When operating a pressure washer, never direct the spray toward a person or animal, as it is dangerous and can result in physical harm.
Standard Pressure Washer Nozzles
Select the nozzle degree and spray angle based on your application. Standard nozzle degrees include 0°, 15°, 25° and 40°. Be careful when selecting a nozzle, as using the wrong nozzle degree can damage the surface you are cleaning. Talk to your local Hotsy dealer if you need assistance or have a question.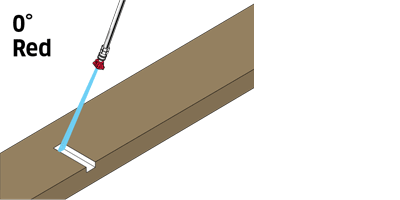 Cutting Nozzle
The 0-degree red cutting nozzle delivers a concentrated stream that can gouge or cut. Forceful enough to remove stubborn stains from concrete and other hard surfaces.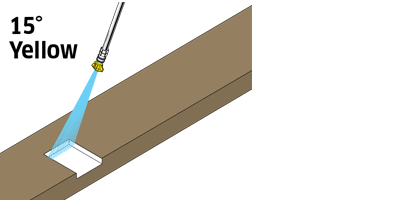 Chiseling Nozzle
Working at a 45° angle, the 15-degree yellow chiseling nozzle works like a scraper by stripping paint, grease and grime from hard surfaces.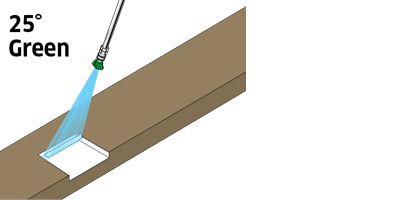 Flushing Nozzle
The 25-degree green flushing nozzle is most commonly used for cleaning dirt from siding, sidewalks and metal furniture, as well as sweeping wet leaves.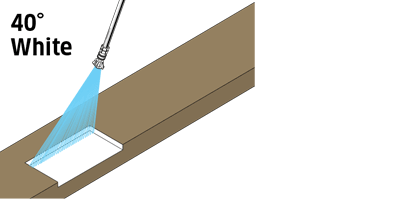 Wash Nozzle
The 40-degree white wash nozzles use a wide spray to wash and rinse large areas quickly. Safe for most surfaces, including aluminum siding, windows and vehicles.
Pressure Washer Nozzle Chart
Determine the nozzle size by the pressure washer's GPM (Gallons Per Minute) and PSI (Pressure per Square Inch). If the nozzle size is too small, your equipment can be damaged. If the nozzle size is too large, cleaning ability is compromised. Nozzle fan degree does not effect nozzle size selection.
Click on the image to expand.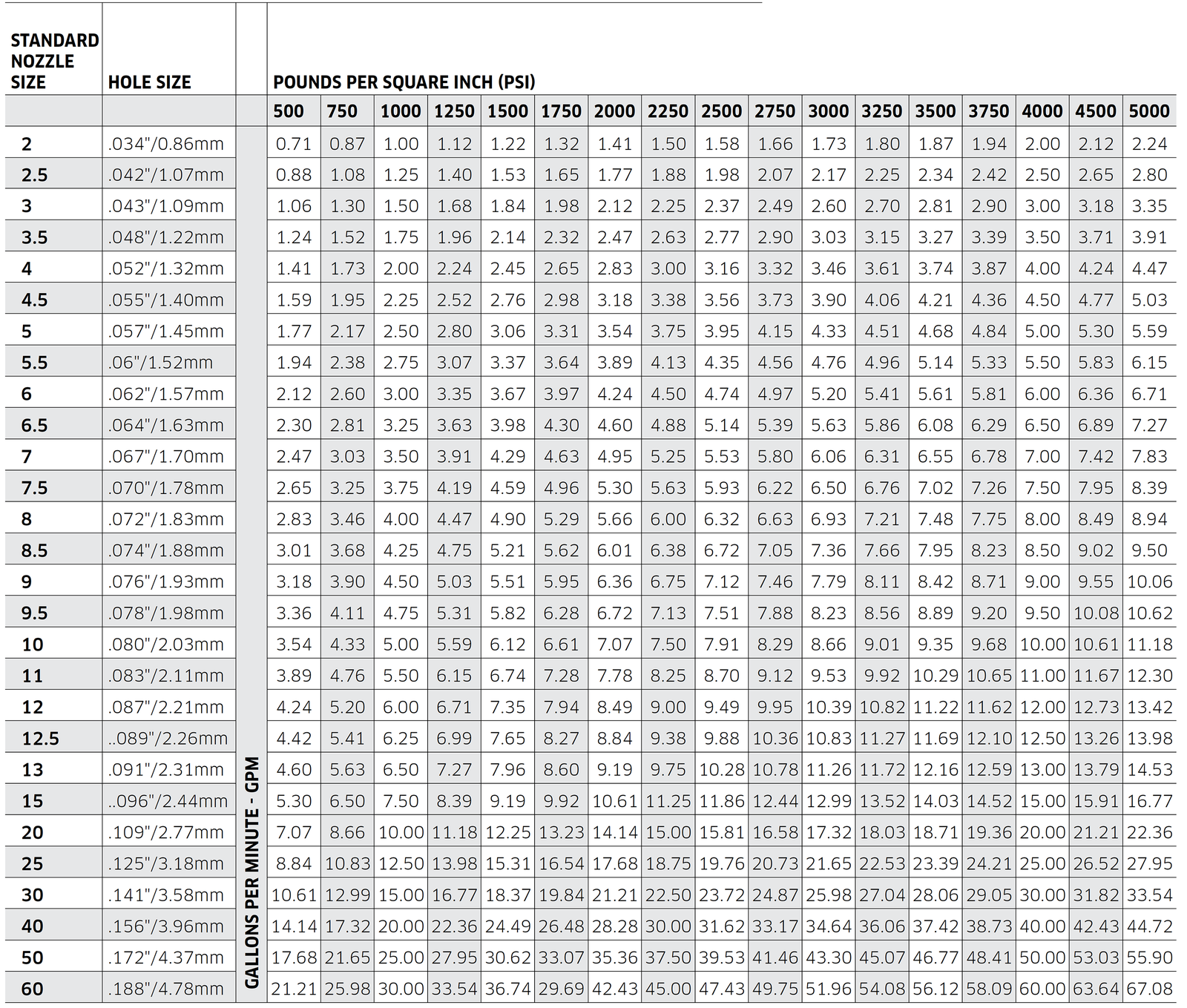 Types of Pressure Washer Nozzles
What job do you need to do? There is a nozzle for that. Wherever you clean – construction site, warehouse, production facility or taking care of the cleaning needs of your city – Hotsy has a pressure washer nozzle that will help you get the job done faster and more efficiently. Talk to your Hotsy dealer today about your cleaning challenge and see the many options you have. Here are just a few: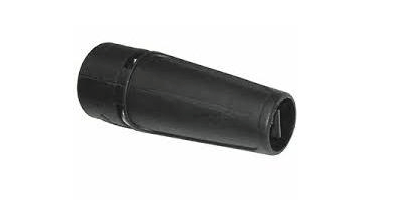 High & Low Variable Angle Nozzles
Push and pull between high and low pressure. Simply twist to adjust the spray fan pattern from 0° to 80°.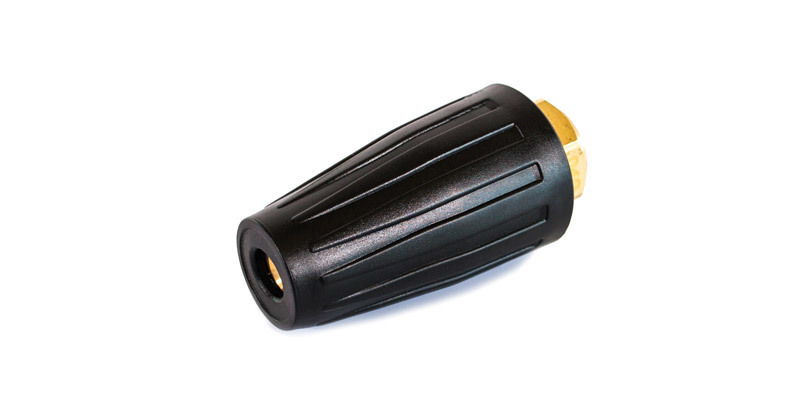 Turbo Nozzles
Hotsy turbo nozzles blast away dirt effortlessly and quickly with a jackhammer effect, and are great for caked-on mud and build-up on construction equipment.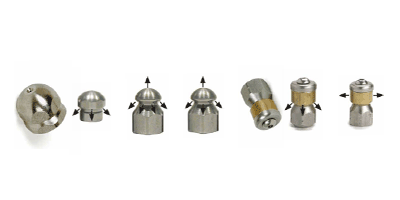 Sewer & Tube Cleaning Nozzles
Reverse jets on the fixed and rotary nozzles pull hose through the tube or sewer line and blast debris from line or tube walls.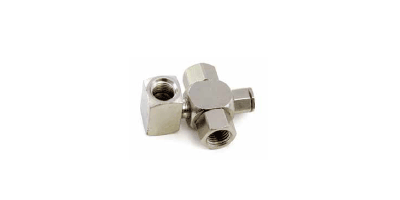 Rollover Nozzles
Nozzles on opposite sides for positive change from chemical applications to high-pressure rinse.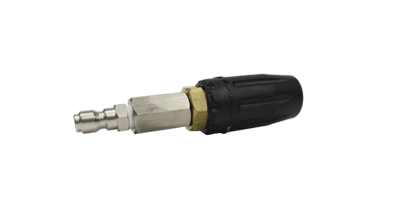 X-Jet Long Range Nozzle
X-Jet long range nozzles are powerful, cleaning up to 40 feet away. Includes a 15-ft hose with in-line shutoff valve and color coded proportioners.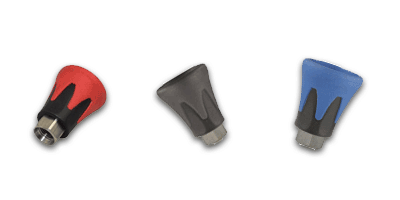 Soft Edge & Hard Edge Protectors
Ideal for protecting sensitive surfaces against damage. Hard plastic body is stable enough to tightly hold nozzle adapter for heavy-duty use.
Have Questions?
Your local Hotsy Dealer is stocked with a variety of pressure washer nozzles, and they're ready to help you find the right solution for your next cleaning job. Enter your zip code OR city, state (ex. Denver, CO) below to locate a cleaning equipment expert nearest you. If we don't have a dealer in your area, you'll be directed to a Hotsy Regional Sales Manager who can assist you.