Professional Pressure Washer Detergents
Hotsy Solution Selector
Finding the right detergent for your cleaning application can be daunting when you see all of your available options. If you're not sure which detergent is best for what you're cleaning, use the Hotsy Solution Selector below to choose the correct Hotsy product for your application.
Hotsy Soap is Designed for Speed Cleaning
Hotsy offers a complete line of effective pressure washer detergents at cost-effective prices. Each is specially formulated for use with hot water pressure washers and cold water pressure washers. We find that many people are using far more pressure washer soap than they need to clean even the dirtiest jobs. Are you using too much? Your local Hotsy dealer can quickly show you ways to save time and money.
High-quality pressure washer detergent, soap and cleaners extends the life of your equipment With advanced-formula Hotsy Continuous Clean (HCC) additives, you'll feel confident knowing that your power washer soap is working to prevent hard water and soap build-up, and fight corrosion in your equipment. HCC also contains rust and corrosion inhibitors to protect the metal surfaces being washed.
No matter what you need to clean, and no matter what your budget, you'll find a Hotsy detergent that suits you. Available in a wide variety of quantities (from five-gallon pails to 55-gallon drums, and even Bulk Packs with up to 200 gallons of on-site storage), Hotsy gives you a variety of pressure washer and parts washer detergents to suit your cleaning needs and ease your budget. Our pressure washer detergents are only sold through our exclusive dealer network —so contact your local Hotsy expert today!
Ever spend valuable time cleaning with your pressure washer, only to find it's not removing grime as quickly or efficiently as you would like? One reason may be the detergent (or lack of) that you're using. For example, if you're cleaning a commercial truck with a pressure washer, you need a detergent that will remove road film and diesel smoke. Some regular pressure washer soaps may not have the needed components to cut through and remove road film, meaning you'll spend more time with less than spectacular results.
Hotsy detergents are developed with specific cleaning applications in mind, so that each has a recommended use. We've divided them into convenient categories, so you'll find what you need quickly.
Additional Detergent Support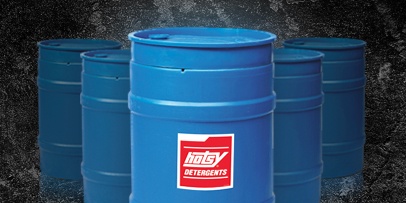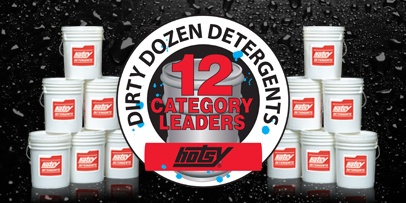 Meet the Dirty Dozen
We've made it easier to select quality detergents with our Dirty Dozen lineup. Discover Hotsy's top detergents for each category of professional cleaning.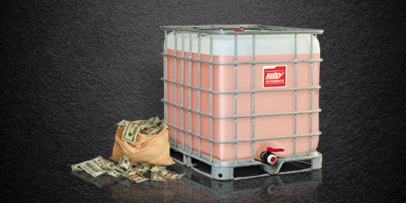 Buy Bulk and Save!
Buying Hotsy detergents in bulk is a great way to get the pressure washer soap you need at a substantial cost savings, delivered directly to you by a local dealer.