Pressure Washer Service & Repair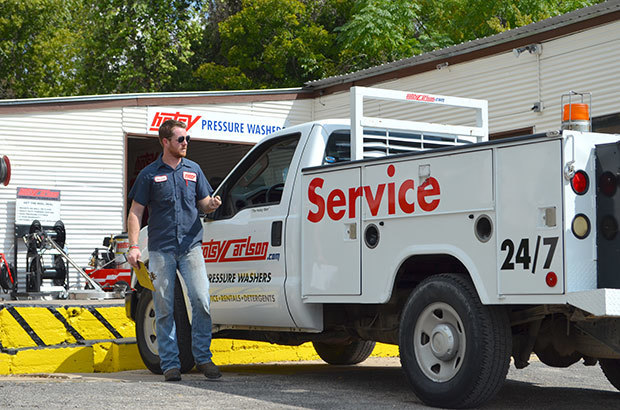 Hotsy Dealers Provide Maintenance and Peace of Mind
Your Hotsy pressure washer works hard every day to keep equipment and surfaces clean. However, like all things mechanical, components wear down and ultimately will fail. Most businesses need maximum productivity, minimum operating costs, and every minute of production they can get. Giving your Hotsy a little TLC to keep it running properly will prolong the life and protect the investment you've made. That way, you can focus on what you need to in order to keep your business running efficiently and smoothly.
You can rely on us, your local Hotsy dealer, to provide pressure washer service and maintenance support when you need it.
Service at your location or ours
Factory trained technicians
Scheduled maintenance plans
24-Point tune-ups
We service all brands
Hotsy authorized service center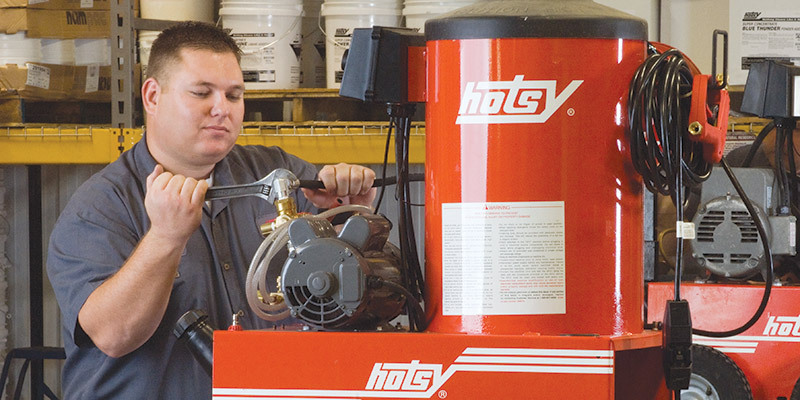 Repair at Your Facility or In Our Shop
When you need service, you can either bring your pressure washer to us or we'll come to you. We have service trucks on the road daily to provide repairs in the field. We understand how important your equipment is to your operation, and know down time is costing you money. For that reason, our service trucks carry a large supply of pressure washer replacement parts allowing techs to correct most issues on the first visit.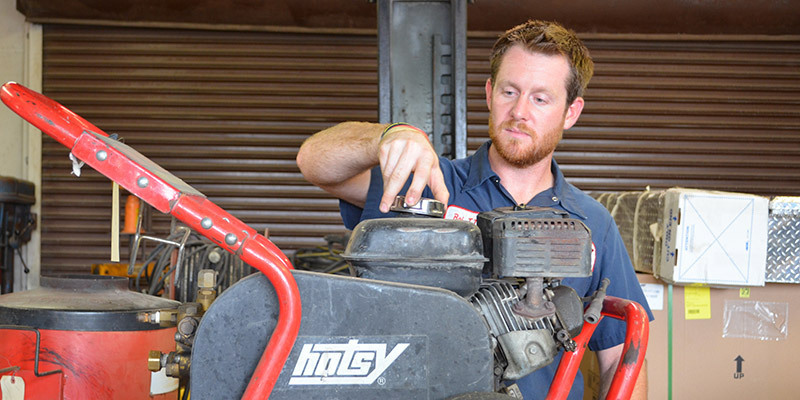 Scheduled Maintenance
Protect your investment with a scheduled, customizable maintenance agreement. Most pressure washers are used often but infrequently checked until they break down. With regular maintenance inspections, our service technicians will perform a 24-Point tune-up and recommend any repairs that are needed. Maintenance plans can be scheduled once a quarter, every 6 months or annually, and can be bundled into the purchase price.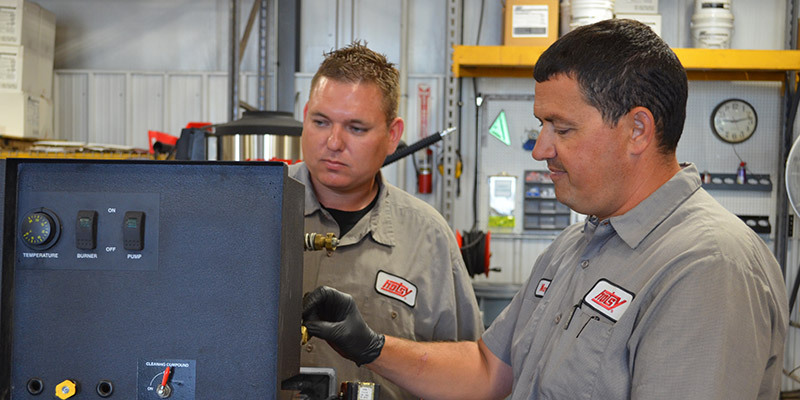 We Repair All Brands
Of course we're partial to the Hotsy brand, but our service technicians perform service and repair on all brands of pressure washers, as well as many other types of equipment. Whatever the brand, your local Hotsy dealer has the expertise to get you back in field again.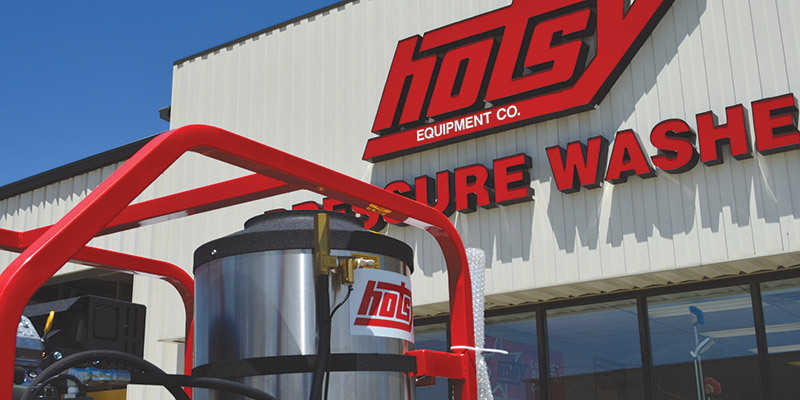 Hotsy Warranty Center
As your local Hotsy dealer, we are your authorized warranty center. We carry genuine Hotsy replacement parts and accessories. Hotsy pressure washers carry the best warranty in the industry with a 7-year limited warranty on the high-pressure pump and 5-year warranty on the heating coil, which are not prorated. Other components are one year parts and labor, excluding wear items.
What's Included in Hotsy's 24-Point Tune-Up?
Hotsy's signature 24-Point Tune-up inspects all aspects of the pressure washer to ensure pressure unloaders, safety valves and hoses are working properly. Safety is key, and with regular tune-ups, you will take care of your staff and your pressure washer.
Check pump pressure
Check oil burner, air band or gas pilot light adjustment
Check pump crankcase oil, top off if required
Check fuel filter cartridge, replace or clean if required
Check nozzle, replace if worn
Check pump volume
Adjust belt tension
Check hoses for wear
Adjust burner for best combustion
Check thermostat for proper cycling
Check gun, wand grips for wear or damage
Check for coil sooting*
Check for coil scaling*
Check for contaminated fuel tank, flush if required
Check detergent inlet system
Inspect quick couplers
Oil pump wicks as required
Check amp draw
Check detergent supply and metering valve
Grease if required
Check engine crankcase oil and fill if required
Check engine spark plugs, replace if required
Check fuel filter, clean or replace if required
Check detergent suction systems and dilution ratios
* Cleaning is extra on these items. Parts at additional cost.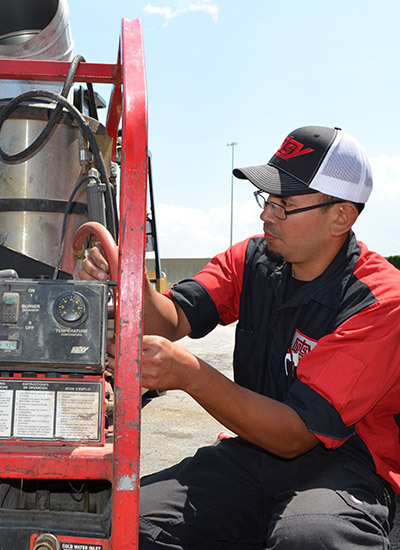 Request Pressure Washer Service or Repairs
Fill out the form below and a local Hotsy dealer will contact you to schedule service or repairs for your pressure washer.
*We respect your privacy and will never sell your e-mail address or other contact information to outside sources. Information is shared only within the Hotsy network of authorized dealers. Any e-mail from Hotsy will include an unsubscribe link.