Cleaning Agriculture Equipment is Easy with Hotsy Pressure Washers
Farmers, Ranchers and Vintners Rely on Hotsy for their Pressure Washer Needs
For cleaning farm equipment, there is one pressure washer tough enough to handle the job – Hotsy. Since 1970, Hotsy has manufactured pressure washers rugged enough to meet the intense demands of those in the agriculture industry. With the great outdoors as your office, farmers know dirt, mud and muck are just part of the daily routine. Hotsy has developed over 100 models of commercial-grade pressure washers that are ideal for cleaning farm equipment such as:
Barns
Tanks
Machinery
Tractors
Milking Parlors
Out Buildings
Cattle Pens
Greenhouses
Plows
Hotsy Pressure Washers are Safe To Use and Quickly Clean Ag Equipment
Hotsy pressure washers are available in stationary or portable models and can be installed in outbuildings or barns with a water supply. Available exclusively through Hotsy authorized dealers in North America, it's easy to choose the Hotsy pressure washer that will best meet your needs. Your local dealer can provide an on-site demonstration so you're able to see how effective a Hotsy can be - and how much time it will save you.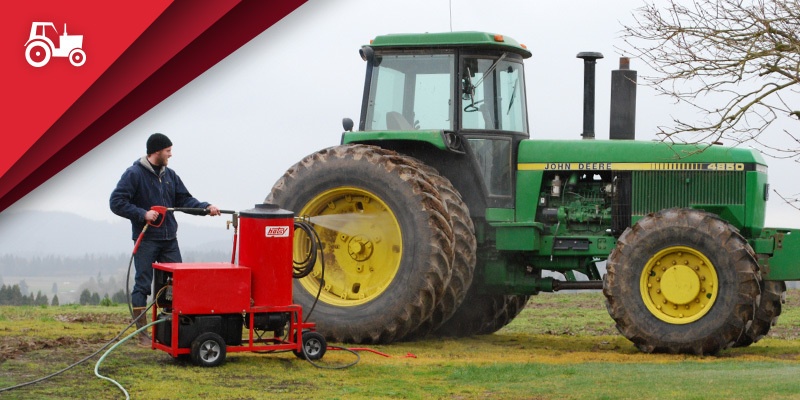 Recommended Pressure Washer Soap for Agriculture