The Oil, Gas & Mining Industry Counts on Hotsy Pressure Washers for Performance and Durability
Industrial Strength Equipment for the Toughest Jobs
Since 1970, Hotsy has provided rugged, high-quality pressure washers to the mining and oil industries. In these environments, it becomes a real challenge to keep valuable equipment clean – whether underground or above ground. Dust and oil can quickly build up and choke equipment if not properly cared for, causing costly downtime. That's why Hotsy, known for its ruggedness and reliability, has become the pressure washer of choice in mines, oil fields, drilling sites and refineries across North America.
For cleaning drilling rig equipment and frack trucks, Hotsy has a wide selection of hot water pressure washers. Just like greasy dishes in the sink, hot water will cut through the oily residue on valuable equipment, prolonging equipment life while ensuring employee safety.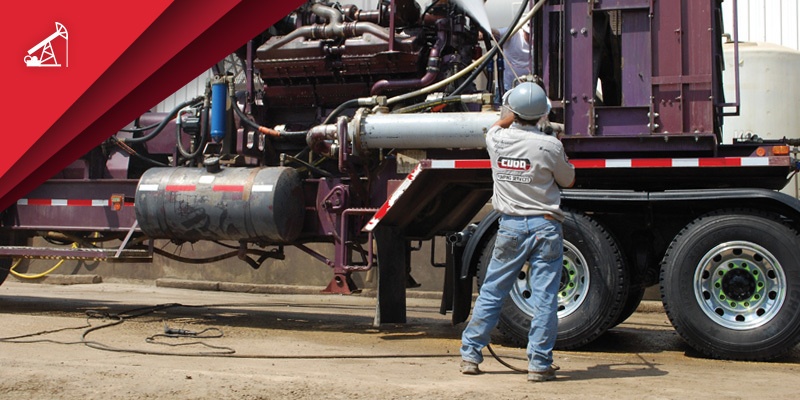 Stationary Pressure Washers
For mining, the most common method of cleaning equipment is with a washing system, which uses a stationary pressure washer remotely positioned away from the trucks or equipment being cleaned, with hot water piped in through a series of trolley hoses. Cleaning is accelerated when using a wash bay since multiple users can clean at once. Hotsy also offers an all-electric model suitable for underground cleaning where harmful fumes or emissions are dangerous.
Combining the power of a Hotsy pressure washer with our line of detergents provides a one-two punch in removing oil and grease from surfaces. For example, Hotsy Brown detergent is the best for oil based drilling mud. Learn more about the Hotsy detergents recommended for the oil and gas industry.
Choose the brand that professionals in the mining, oil and gas industries have used for decades...Hotsy pressure washers. To best determine which model is right for you, contact your local Hotsy dealer.
Recommended Pressure Washer Soap for Oil, Gas and Mining